SALISBURY, MD. (July 19, 2015) –Ice cream may be ubiquitous to summer, but for one dairy farmer in Tuscarora, Md., this sweet treat is much more, it's part of his family's story. In 2009, Chuck Fry, and his wife, Paula, were looking for a way to diversify the income from their dairy farm.
"I've always taken a milk stool approach," says Fry. "Our business, like a milk stool, should have three legs. For us, two of those legs are the cows and the crops. We were looking for a third leg to complete our family business."
It was Paula who convinced Chuck to consider making and selling ice cream on their farm. Centrally located off a main highway to Frederick, Md. and Leesburg, Va., Rocky Point Creamery would be able to serve two large metro populations.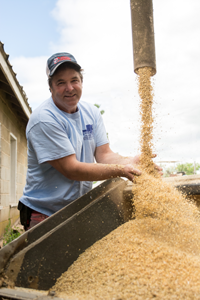 Several years of research and planning followed, and in 2011, the Fry's broke ground on the Creamery building, situated at the entrance to their dairy farm. The family started serving their homemade ice cream soon after, and now, there is a steady stream of customers.
"We knew our customers would come from Frederick and Leesburg, but actually, we have many customers from Washington, D.C. For them, it's a destination, a chance to experience a real, live dairy farm," says Fry.
While customers may see the farm as a destination, to Chuck, a fourth generation farmer, the farm is his family's lifestyle and livelihood.
"Our cows are our number one priority," says Fry. "From the high-quality feed they eat, to the superior veterinarian and herdsman care, to the clean and open housing, each cow is treated with respect."
One of the feeds that the cows at Rocky Point Farm turn into delicious ice cream is fresh ground and roasted soybeans.
"Maryland dairy farmers feed more than 9,000 tons of soybean meal each year," says Fry. "On our farm, we grow, harvest, roast and grind the soybeans ourselves. On demand roasting and grinding helps retain the good oil in the soybeans. Combined with other quality feeds, our cows eat to produce premium milk."
That milk is turned into the ice cream that Rocky Point Creamery customers enjoy.
"Ice cream fresh from our farm," says Fry. "That's our motto, and our promise to our customers. Being able to share a little slice of our family farm with our customers is wonderful."
Maryland farmers grow about a half a million acres of soybeans every year, harvesting between 16 to 20 million bushels that are used to feed poultry and livestock.
According to the United Soybean Board, animal agriculture in Maryland represents $2.4 billion in economic output, $394 million in household income, and 14,300 jobs.
In addition, it yielded an estimated $99 million in income taxes and $48 million in property taxes.
To learn more about Rocky Point Creamery, visit www.rockypointcreamery.com.