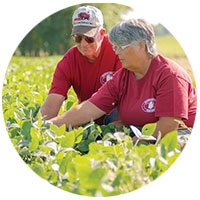 Linda and Dave Burrier
On a cold winter's day with their fields blanketed in snow, farmers Dave and Linda Burrier don't get a day off. There's paperwork to do – lots of it. Maryland farms like Burrier Farms, located in Union Bridge, have to file a nutrient management plan with the state every year. The Burriers, who grow soybeans, hay, corn and wheat on more than 1,200 acres, also raise cattle.
Stewardship of the land isn't just a legal requirement for these farmers, though. It's a personal and professional ethic many Maryland farmers share.
Learn more!
So much so, in fact, that Maryland farmers participating in the state's 2014-2015 Cover Crop Program planted a record 478,000 acres of cover crops on their fields last fall to control soil erosion, reduce nutrient runoff and protect water quality in streams, rivers, and the Chesapeake Bay. The 2014 cover crop planting is the largest in Maryland history, exceeding the previous record of 430,000 acres in 2012. Maryland farmers exceeded the Phase I and II Watershed Implementation Plan milestone for cover crops in 2011 and 2013 and with this planting, have exceeded the milestone commitment for 2015. Cover crops are widely considered to be one of the most environmentally sustainable ways to protect water quality in the Chesapeake Bay and its tributaries. Collectively, the 478,000 acres of cover crops planted will prevent an estimated 2.9 million pounds of nitrogen, and 95,600 pounds of phosphorus from impacting waterways. The Burrier farm has been in the family since 1962, and each year the Burriers strive to improve the soil quality, protect waterways and maintain strict conservation practices. "The Linganore Creek runs through our farm," says Dave. "To protect this valuable waterway, we've planted hay on both sides of the bank. The hay buffers any sediment or nutrients before they can get to the creek. Similarly, we keep a field that tends to flood permanently planted in grass to protect soil erosion." "Caring for the land we farm is important to our family. Conservation is the right thing to do, but it also rewards us with high-quality crops. We also use no-till farming, strip cropping, crop rotations and cover crops," says Dave. No-till farming is a practice that grows crops without using tilling, also known as plowing, which can be a major factor in soil erosion. Strip cropping also prevents soil erosion by creating natural dams for water, helping to preserve the strength of the soil. Cover crops such as cold-hardy wheat, rye and barley, are planted in the fall. Once established, the cover crops recycle unused plant nutrients that may remain in the soil from the previous summer crop. They also protect fields against wind and water erosion and improve soil health, increasing organic matter in the soil, reducing weeds and pests, and providing a habitat for beneficial insects. The Burriers also rotate the crops they plant in a certain field each year. Off the farm, Dave and Linda have made it a priority to serve on agricultural boards and committees, including the Maryland Soybean Board. In October, Linda was appointed to the United Soybean Board. "Farming is a business, but it's also a lifestyle," says Linda. "Not only do we care about our land deeply, we care about sharing our time in the community. It's important to give back and to help improve farms and teach farmers about new industry practices." The Maryland Soybean Board and United Soybean Board are funded by the national soybean checkoff. Through the checkoff program, farmers contribute one-half of one percent of the net market value of soybeans at the first point of sale. These funds are used for research, marketing and education projects.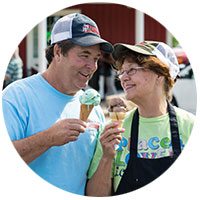 Chuck and Paula Fry
Maryland residents have a reason to celebrate July, the return of National Ice Cream Month and an excuse to explore Maryland's Best Ice Cream Trail.
One ice cream shop featured on the trail is Rocky Point Creamery, owned by dairy farmers, Chuck and Paula Fry. Located in Tuscarora, Md., this creamery offers a variety of ice cream flavors made fresh from the family's dairy cows.
Learn more!
"Our cows are our number one priority," says Chuck Fry. "From the high-quality feed they receive, to the superior veterinarian and herdsman care, to the clean and open housing, each cow is treated with respect." One of the high quality foods that the cows at Rocky Point Farm turn into delicious ice cream is fresh ground and roasted soybeans. "We plant and harvest 500 acres of soybeans a year," says Fry. "Roasting and grinding the soybeans as we use them benefits our cows. It helps retain the good oil in the cows' food and helps them to produce premium milk." Maryland farmers grow about a half a million acres of soybeans every year, harvesting from 16 to 20 million bushels that are used to feed poultry and livestock. According to the United Soybean Board, animal agriculture in Maryland represents $2.4 billion in economic output, $394 million in household income, and 14,300 jobs. In addition, it yields an estimated $99 million in income taxes and $48 million in property taxes. Rocky Point Creamery opened their doors in 2011, but Chuck is a fourth generation dairy farmer. "Getting your hands dirty keeps you connected with the land and it keeps you real. Being able to share a little slice of that with our customers is wonderful," says Fry. "Besides, ice cream is a happy food – who can stay in a bad mood when there's fresh, homemade ice cream to be had?" Fry is the President of the Maryland Farm Bureau and a member of the American Farm Bureau Board. To visit Rocky Point Creamery and learn more about the Fry dairy farm, click over to the Maryland's Best Ice Cream Trail.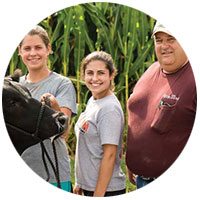 Randy Stabler and his daughters
Thanksgiving is a time for food, family and fellowship. For Maryland farmers, it's also a time to be thankful that the year's crops have been harvested and that their animals have had another year of superior care.
On Pleasant Valley Farm, family is the centerpiece of the farming operation. Located in Brookville, Md., the farm is run by two father-son partners: Robert and Randy Stabler and Breck and JB Debnam. Randy's daughters, Kelsey Thomas and Shelby Stabler, are also involved in the day-to-day operations.
Learn more!
"Our families have a passion for agriculture," says Randy Stabler. "We love what we do and take pride in producing high-quality food for our neighbors." Pleasant Valley Farm grows soybeans and corn on 2,500 acres, as well as selling natural, grain-fed Black Angus beef and fresh sweet corn at their farm stand. "One of the reasons we love farming is the opportunity to work with our families," says JB Debnam. "After working off the farm for 12 years, I came back to work with my dad and Randy's family, and it was one of the best decisions of my life." With so many family members involved, each person is able to take responsibility for a portion of the farm, expanding on their strengths. Randy's daughters, Kelsey and Shelby, are in charge of the cattle herd as well as the farm stand. Randy heads up the farm's marketing efforts, and JB is the lead on the crops and equipment. Robert and Breck still help out where needed. "Everyone pitches in where needed, but it's nice to have one area on the farm that you have responsibility for," says Randy. Pleasant Valley Farm was originally started by Robert Stabler and his brother, Drew in 1954. In 1987, Randy came into the partnership; and in 2001, Drew withdrew. Fast forward to 2011, and the Debnams joined the partnership; merging the two farm families together. "Dad and I were so pleased to join Randy and Robert," says JB. "Not only was it an opportunity to expand and diversify both farms, but it joined together our two farm families, making us stronger." The partnership has allowed Randy to become more involved in the community, including the Maryland Soybean Board and the Montgomery County Ag Producers; and allows the Stabler family to be involved in showing their Black Angus at state and national cattle shows. "Together, we've been able to build a farm that is sustainable and will be an opportunity for the next generation," says Randy. "We can sustain both families, and each of us has the ability to realize our dreams." Recently completed USDA census data has found that that 97 percent of farms in the U.S. are family-owned businesses. These farms are very diverse, but remain the core of the U.S. agriculture industry.