Creative tools available to help farmers and farm-employees take to the road safely.
Aiding U.S. farmers in getting home safely to their families every night is a priority for your soy checkoff. While farming may be one of the most rewarding occupations, it's also one of the most dangerous. With the support of the United Soybean Board and the Delaware Soybean Board, the Maryland Soybean Board developed the Find Me Driving "Road Safety" campaign, aimed to raise motorists' awareness of farm equipment drivers on the roads during the spring, summer and fall. The campaign also offers farmers tools for best practices in driving slow moving vehicles (SMVs) on roadways. Through the campaign, various resources — such as training videos, safety posters and window clings for your tractor and combine — were developed to help keep farmers and others safe on the road.
"Farmers driving SMVs can do so much to raise awareness of their presence on the road to other faster-moving vehicles," said Belinda Burrier, Chair of the United Soybean Board Communication and Education Committee and Maryland farmer. "It comes down to operational best practices when moving farm equipment from one location to another, and each farm equipment driver should follow the safety tips available from this campaign to help ensure their safety and the safety of others."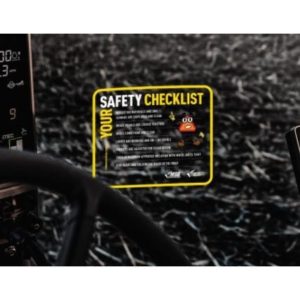 One particular asset created for the campaign is the road safety window cling, which took home a regional first place "Best of NAMA" award this year. The National Agri-Marketing Association's awards program honors the best work in agricultural communications. Placed in the cab of a slow moving vehicle, the cling reminds drivers of basic safety checks to make before driving on a public road:
Reflective materials and SMV emblem are displayed and clean.
Brake pedals are locked together for even stops.
Required lights and warning flashers are on; turn off rear facing work lights.
Mirrors are clean and adjusted for clear views.
Tires are at the maximum recommended pressure and wheel bolts are tight.
Route conditions are clear of road construction, bad weather and accidents.
"We encourage all farm organizations to promote the road safety campaign tools with their farmers and share the road safety information with their non-farming neighbors driving the same rural roads with our farm equipment," concluded Burrier.
The Find Me Driving campaign website has a collection of safety-related resources for general motorists and SMV drivers including checklists, training videos,  driving statistics and tips, and safety articles.
# # #
About Maryland Soybean Board: In Maryland, farmers grow about 500,000 acres of soybeans, producing more than 20 million bushels of beans each year. With a value of $173 million to the state's economy, soybeans are one of Maryland's top crops. The checkoff program is funded by farmers through an assessment of 0.5% of 1% of the net market value of their soybeans at the first point of sale. One-half of the checkoff funds stay in Maryland for programs; the other half is sent to the United Soybean Board. See more at www.mdsoy.com.
About United Soybean Board: United Soybean Board's 78 volunteer farmer-directors work on behalf of all U.S. soybean farmers to achieve maximum value for their soy checkoff investments. These volunteers invest and leverage checkoff funds in programs and partnerships to drive soybean innovation beyond the bushel and increase preference for U.S. Soy. That preference is based on U.S. soybean meal and oil quality and the sustainability of U.S. soybean farmers. As stipulated in the federal Soybean Promotion, Research and Consumer Information Act, the USDA Agricultural Marketing Service has oversight responsibilities for USB and the soy checkoff. For more information on the United Soybean Board, visit www.unitedsoybean.org.
The Maryland Soybean Board welcomed farmers, industry professionals, researchers, and agency officials last week as they hosted their Soybean Checkoff Research Field Day at the Wye Research and Education Center in Queenstown. Attendees braved the heat to learn about...
Local farmers and industry professionals are invited to join the Maryland Soybean Board to learn about checkoff-funded research out in the field on August 11, 2021, at the Wye Research and Education Center. Research to be featured includes a spray drone demonstration,...
The Maryland Soybean Board is pleased to announce that it has awarded 13 research project grants totaling an investment of $156,753 for 2021 production research. The farmer-led board selected projects that would provide growers with the most current information to...
The Maryland Soybean Board is now accepting applications for projects that promote soybeans or its many byproducts. Interested applicants are encouraged to submit a proposal by July 14. Projects should be for their upcoming fiscal year, beginning October 1, 2021 and...
As many around the globe celebrated Earth Day on April 22nd, Maryland soybean farmers went on with business as usual. That is because for them, every day is Earth Day. Maryland farmers are leading the nation in implementing climate-smart agricultural practices to...
The proactive safety campaign offers tips, advice and warnings that could save lives. Each year, spring brings an increased number of tractors and other farm equipment to roadways across the state. It also brings a higher number of accidents that can often be...
Family farms on Delmarva, and across America, have helped build the safest and most affordable food supply in the world. Women play a vital role in running the farm and growing the nation's food supply.  For the past decade, they have been speaking up to tell their...
Salisbury, MD (March 8, 2021) – Spring brings planting season for Delaware and Maryland farmers. That means more tractors pulling planters and other farm equipment down highways and roads across the state. That also means increased potential for farm-equipment-related...
Maryland motorists can help reduce farm-related accidents. The Maryland Soybean Board, with support from the United Soybean Board, is partnering in the "Find Me Driving" road safety campaign to raise motorists' awareness of farm equipment drivers on the roads this...
Maryland Soybean Board to partner in education outreach The Maryland Soybean Board praises the Maryland Department of Transportation for their innovative consideration of farmers in their recently released 2021-2025 Maryland Strategic Highway Safety Plan (SHSP). The...