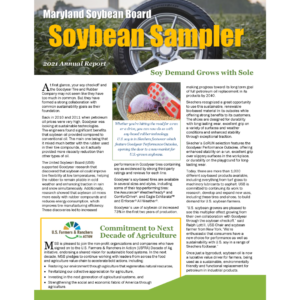 The Maryland Soybean Board (MSB) recently released their Soybean Sampler Annual Report, demonstrating how the soy checkoff has worked to build value for Maryland farmers over the past year. In 2021, the farmer leaders of MSB voted to fund over $440,000 in priority projects outlined in their strategic plan including Animal Agriculture, Consumer Education, Emerging Markets, Farmer Engagement, and Production Research.
"For every dollar that is invested in the soy checkoff, farmers received $12.34 in added value," explains MSB Chair Joshua Appenzeller. "We prioritize our investments in projects that address local issues and positively impact farmer's operations."
Highlights include projects to promote rural road safety by utilizing their Find Me Driving resources; build consumer trust through projects such as My Maryland Farmers and CommonGround; leadership training for farmers to benefit their communities; and a research field day that allowed growers the opportunity to learn about how checkoff funded research can be applied on their farms.
More information about these projects can be found in the Annual Report.
Administered by MSB, the checkoff is a 100% farmer-funded program that invests in research, marketing, and education to maximize the profitability of Maryland soybean producers. MSB's Board of Directors is made up of ten volunteer soybean farmers, each appointed for a three-year term, along with ex-officio members representing agribusiness, the Maryland Department of Agriculture, and the University of Maryland.
In Maryland, farmers grow about a half a million acres of soybeans, producing more than 20 million bushels of beans each year. With a value of $173 million to the state's economy, soybeans are one of Maryland's top crops. The checkoff program is funded by farmers through an assessment of one-half of one percent of the net market value of their soybeans at the first point of sale. One-half of the checkoff funds stay in Maryland for programs; the other half is sent to the United Soybean Board.
For more information on the Maryland Soybean Board, explore www.mdsoy.com.
# # #
Danielle Bauer Farace, Executive Director
Maryland Soybean Board
Office: 443.812.4526
danielle@mdsoy.com