Maryland soybean farmers applaud their number one customers in animal agriculture who aided in keeping food on table for local families during unprecedented times. According to the Maryland Food Bank, agricultural corporations such as Perdue Farms, Inc., Smithfield Foods, and Tyson Chicken donated over 1.3 million pounds of protein-rich foods in 2020.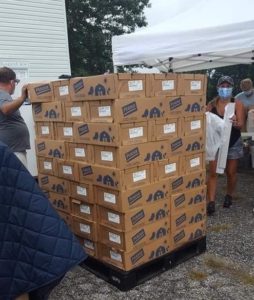 "As Marylanders have increasingly relied on food pantries over the past year, we are pleased to see our partners in the supply chain give to help those in need," said Maryland Soybean Board Chair Belinda Burrier.
Maryland farmers sustainably grow high-quality soybeans on approximately half a million acres throughout the state. Many of these farmers grow genetically modified (GMO) crops, which allow them to fully embrace conservation practices such as cover crops, no-till farming, and crop rotation. Using these practices, farmers can combat climate change by sequestering carbon, reducing soil erosion, and improving water quality.
While soybeans have many uses, the majority grown in Maryland are sold to the animal agriculture sector, where they are crushed into soybean meal and used for feed. Soybeans provide an excellent source of protein, essential amino acids, and other value nutrients for poultry, pigs, beef and dairy cattle, and more.
Poultry companies on the Delmarva, such as Perdue Farms, Inc. and Tyson Chicken, purchase 38 million bushels of soybeans each year for chicken feed. The nutritious diet that soybeans provide efficiently grows high-quality chickens. In turn, these chickens provide a low-calorie and low-fat protein source for humans that builds muscle, promotes heart health, strengthens bones, and more.
With a value of $173 million to the state's economy, soybeans are one of Maryland's top crops. The Maryland Soybean Board works to maximize the profitability of Maryland soybean producers by investing Maryland checkoff funds in research, promotion, and communication projects. Learn more about soybeans in Maryland by visiting www.mdsoy.com.
# # #
Danielle Farace, Executive Director
Maryland Soybean Board
Office: 443.812.4526
danielle@mdsoy.com