November 25, 2015 – Thanksgiving is a time for food, family and fellowship. For Maryland family farmers, it's also a time to be thankful that the year's crops have been harvested and that their animals have had another year of superior care.
Recently completed USDA census data has found that that 97 percent of farms in the U.S. are family-owned businesses. These farms are very diverse, but remain the core of the U.S. agriculture industry.
On Pleasant Valley Farm, family is the centerpiece of the farming operation. Located in Brookville, Md., the farm is run by two father-son partners: Robert and Randy Stabler and Breck and JB Debnam. Randy's daughters, Kelsey Thomas and Shelby Stabler, are also involved in the day-to-day operations.
"Our families have a passion for agriculture," says Randy Stabler. "We love what we do and take pride in producing high-quality food for our neighbors."
Pleasant Valley Farm grows soybeans and corn on 2,500 acres, as well as selling natural, grain-fed Black Angus beef and fresh sweet corn at their farm stand.
"One of the reasons we love farming is the opportunity to work with our families," says JB Debnam. "After working off the farm for 12 years, I came back to work with my dad and Randy's family, and it was one of the best decisions of my life."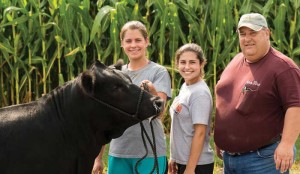 Pleasant Valley Farm was originally started by Robert Stabler and his brother, Drew in 1954. In 1987, Randy came into the partnership; and in 2001, Drew withdrew. Fast forward to 2011, and the Debnams joined the partnership; merging the two farm families together.
"Together, we've been able to build a farm that is sustainable and will be an opportunity for the next generation," says Randy. "We can sustain both families, and each of us has the ability to realize our dreams."
To learn more about soybeans and how they are used on Maryland farms, visit www.www.mdsoy.com.
The Maryland Soybean Board administers soybean checkoff funds for soybean research, marketing and education programs in the state. One-half of the checkoff funds stay in Maryland for programs; the other half is sent to the United Soybean Board. To learn more about the Maryland Soybean Board, visit www.www.mdsoy.com.