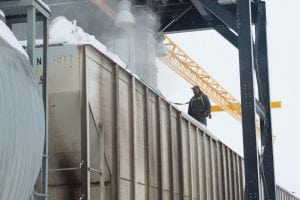 (SALISBURY, MARYLAND) – September 13, 2018 – China's tariff on U.S. soybeans is a hot topic, and although the soybean checkoff program does not engage in policy work, it has been working to soften the blow.
About half of the U.S. soybean crop is exported, with China representing about 60 percent of that half. That means the market took a 30 percent hit – which is sizeable. The soybean checkoff has taken measures over time to protect our farmers and is responding today with new measures:
Reaching out to new customers to create new demand, and touching base with old customers to get them to build stocks of U.S. beans, thanks to work by the U.S. Soybean Export Council (USSEC).
Encouraging poultry industries here and abroad to increase production, again through USSEC. American soybeans offer the highest quality, strongest sustainability, best nutritional profile, and best value to the world's poultry and livestock farmers.
Providing information and support about the importance of exports to the U.S. soybean market to the government and to our strategic partners, and responding to opportunities to engage new funding for export marketing programs.
Building domestic demand by supporting the use of biodiesel, which is now a more than 7 billion gallon market.
Investing in domestic demand by incubating new uses of soybeans. Each year the checkoff announces the debut of about a dozen new soy-based products and in the past decade, has increased demand for new uses by almost 700 percent.
Researching new ways to improve the bottom line for farmers by reducing cost of production and protecting yield.
Adding value to your beans by launching varieties with customer-focused benefits – High Oleic being a prime example.
The Maryland Soybean Board administers soybean checkoff funds for soybean research, marketing and education programs in the state. It is funded by farmers through an assessment of one-half of one percent of the net market value of soybeans at their first point of sale. One-half of the checkoff funds stay in Maryland for programs; the other half is sent to the United Soybean Board.
In Maryland, farmers grow about a half a million acres of soybeans, producing more than 20 million bushels of beans each year. With a value of $173 million to the state's economy, soybeans are one of Maryland's top crops.
# # #
For More Information:
Susanne Zilberfarb, Executive Director
Maryland Soybean Board
Office: 410.430.2613